Vietnam is one of the countries in Asia which were ruled in many ways, such as: the dynasties of families, emperors along with harems and the grand palaces, or the feudal lords as well as ladies.
Have you ever heard about the Forbidden City in China? This project was built for the Emperor along with his entourage. And in Vietnam, there is also a similar city which exists until now. Do you know what the city is? That is Hue and by a Hue city tour 1 day, you can know clearly why Hue seems to be the Forbidden City in Vietnam.
During the time between 1802 and 1945, the Nguyen Dynasty which was a strong family ruled our country. At that time, that capital of Vietnam was located in Hue which was pronounced as Hwhey. The Nguyen Dynasty was the last family which ruled the country when the Emperor gave up his position and supported the new government.
However, Hue was the capital under the power of the Nguyen Dynasty for a long time, so Hue is considered as the Vietnam Imperial City. Many tombs of the Emperors are located along the Huong River to dedicate them. Every tomb includes the special things you certainly feel amazing. You can visit them in the Hue city tour 1 day. Now let's take a look at some tombs in this article.
Royal Tomb of Minh Mang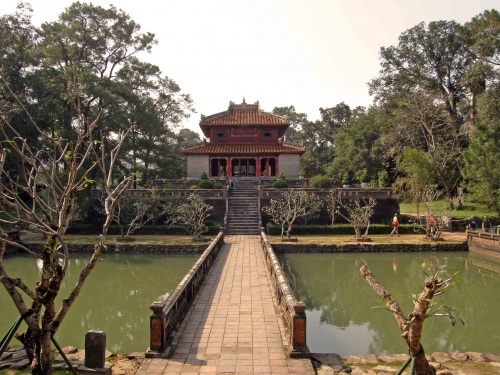 This tomb was designed in the traditional way. The symmetry followed the classical Chinese scheme and it seems to be never seen in other tombs. The oval walled compound contains the forty structures which were divided by a central line. This line consists of the stele pavilion, the salutation court, and the emperor's tomb. Continue reading "Top 5 Tombs in Hue City"